The A.I.S.E. Charter for Sustainable Cleaning
People in their homes can feel confident that it is clean and tidy. However, when going outside the home, in public places such as schools, offices, hospitals, people have to trust that the environment is properly cleaned and disinfected.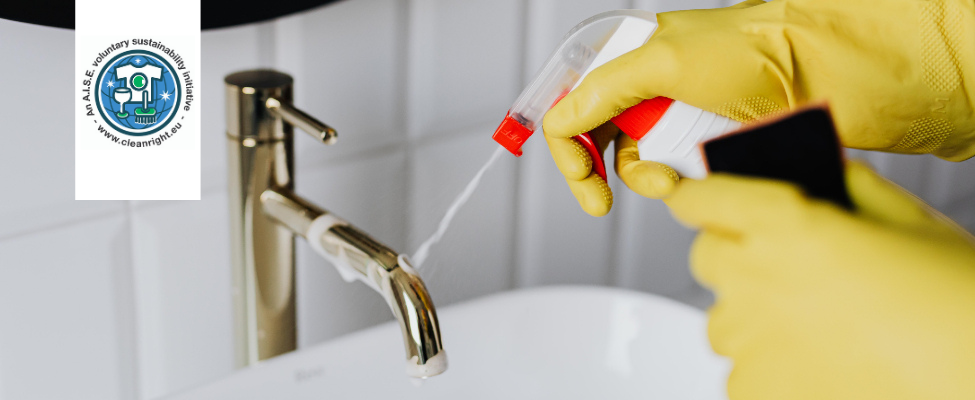 Given that disease-causing bacteria such as salmonella, aspergillus, which are invisible and are present in the environment on various surfaces, it is important to properly and regularly clean and disinfect surfaces with appropriate cleaning agents. Manufacturers of these cleaning products must inform consumers that the ingredients they use are safe for nature and humans. Such confirmation is provided by A.I.S.E (International Association for Soaps, Detergents and Maintenance Products). Charter for Sustainable Cleaning compliance mark on detergents. This mark confirms the manufacturer's voluntary have decided to implant high-level industry standards into their organization and respects the principles of corporate social responsibility towards the environment and social aspects.
What is the A.I.S.E. Charter for Sustainable Cleaning?
The A.I.S.E. Charter for Sustainable Cleaning is a voluntary initiative of the European detergents and maintenance products industry. The aim is to encourage the whole industry to undertake continual improvement in terms of sustainability and also to encourage consumers to adopt more sustainable ways of doing their washing, cleaning and household maintenance.
The Charter is a lifecycle analysis (LCA) based framework. It promotes a common industry approach to sustainability practice, for example, by publishing reports on the achievement of sustainability goals set in previous years. A.I.S.E., which represents the soaps, detergents and maintenance products industry in Europe, manages the Charter scheme on its behalf.
The Charter was launched in 2005 has been acceded to by all EU countries plus Iceland, Norway, and Switzerland. It can involve organizations of all sizes that produce, distribute or trade soaps, detergents, care products or cleaning systems. To join the Charter, a company does not have to be a member of the A.I.S.E. National Association. In Latvia, the National Association, which has joined A.I.S.E. is the Latvian Association of Chemical and Pharmaceutical Entrepreneurs.
Why organisation should get A.I.S.E. Charter for Sustainable Cleaning compliance check and receive compliance mark?
The Charter is the most complete standard of sustainability that ensures the implementation of good practice in organizations in the cleaning and hygiene industry. Verified products by A.I.S.E. Charter for Sustainable Cleaning confirms their high quality and compliance with the highest industry sustainability standards.
By implementing the A.I.S.E. Charter for Sustainable Cleaning standards, the comapany demonstrates that it:
sets sustainability goals;
complies whith socially and ecologically responsible principles of production and company management;
uses smart and environmentally friendly packaging;
significantly reduces carbon emissions;
efficient use of raw materials, reducing waste;
promotes customer and buyer confidence in product quality;
uses biological raw materials.
A.I.S.E. Charter for Sustainable Cleaning compliance check
Manufacturers and retailers may join A.I.S.E. organization and report regularly on the achievements in sustainability aspects as reported by each member. Manufacturers can join as 'Ordinary Members' and retailers and distributors can join as 'Associate Members'.
Online link to apply for A.I.S.E. members: https://www.sustainable-cleaning2020.com/register/join-the-charta.
Manufacturers who wants to obtain a Charter conformity mark for their products by joining A.I.S.E. organization, must undergo an Entrance Check provided by external approved independent certification bodies. Traders are not required to carry out such check and may not use A.I.S.E. Charter conformity mark on their products.
For manufacturers:
To perform an independent external verification A.I.S.E. Charter for Sustainable Cleaning Entrance Check, the company needs to implement effective Charter Sustainability Procedures (CSPs) in their management systems. IT must apply to a minimum of 75% of the company's total production. For the Entrance Check the company must be defined six 'Essential CSPs'.The other six CSPs, which are the 'Additional CSPs', have to be added for the first re-verification three years after joining the Charter.
The external verification guarantees that all applicant companies are individually assessed on the same basis by a neutral, professional auditor team, and regularly re-assessed to ensure continued compliance. The company bears the cost of the Entrance Check CSP verification.
When "Entrance Check" in organisation has been carried out and organisation is committed to complying with the provisions of the Charter, it is entitled to use the Charter logo. Also an organisation is required to report annually to the Key Performance Indicators (KPIs) A.I.S.E. reporting platform..
BM Certification, can provide training about  A.I.S.E. Charter requirements, conduct pre-audits and compliance checks on A.I.S.E. Charter for Sustainable Cleaning Scheme and its procedures.
Contact us for more details.
If you want to receive a price quotation, please fill in the application form.
SIMILAR SERVICES THAT YOU MAY BE INTERESTED IN:
Do you want to close the form?
Data will not be saved or sent.
Send us a message
Thank you, your message has been received!